Post Author: Ernie Straub
Sustainability is important, don't get me wrong, but in 1920, my grandfather, Ernest Joseph Sr. had something more in mind than just building something that would stand on the ground. Straub Construction was started by my grandfather and continued by my father to put on display our core values: honesty, integrity, work ethic, respect and accountability.
My grandfather never wrote these adjectives down on paper saying "follow these", but the stress of importance he and my father put on delivering what the customer was promised is what you will still find today at Straub Construction.
This year, we are blessed to be celebrating 95 years of doing business in Kansas City.  Most companies don't make it to 20 years. Grandfather and Dad were right – these values do stand the test of time.
What a treasure it was for the fourth generation, Ernie IV and I to recently tour a 15,000 SF steel and concrete home in Mission Hills that my grandfather built in 1934 in the heart of the depression. What an eye opener as we marveled at the attention to detail and the quality throughout, hand painted wall paper from Europe, newly re-plated door hardware that moved with such ease and precision, even the original air condition system was still in operation. Most amazing, it was all completed in 12 months so we could only imagine the daily man count required!
We also toured the magnificent Georgetown Apartments Clubhouse built by my father in 1965 with The JC Nichols Company. We saw the same quality and commitment to sustainable buildings. Georgetown Apartments was the first "garden style" complex that had its own power plant that provided heating and cooling to a massive 460 unit complex.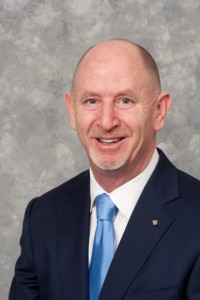 I'm a third generation Straub.  What an honor it has been for me to celebrate and be a part of 6 milestone anniversaries (70,75,80,85,90, and 95 years) since joining Straub Construction in 1988. I'm forever grateful for all of the hard work and efforts that my grandfather and father did to build our great reputation. Of course, none of this would have been possible without the men and women that have worked with dedication and commitment to deliver on the core values that Straub Construction lives by.
As we celebrate this 95th anniversary and reflect on our past accomplishments, I'm most excited about what the future holds. I say it often because it's so true "you are only as good as your people" and at Straub Construction our people do make the difference. To all those that have contributed to our success, we say thank you and we look forward to earning your trust and continuing to contribute to the great community we live in.
95 YEARS, NOW THAT'S SUSTAINABILITY!
https://www.straubconstruction.com/wp-content/uploads/2015/03/Straub-95-logo-tagline.gif
259
298
Ernie Straub
https://www.straubconstruction.com/wp-content/uploads/2019/11/UseThis-01-300x104.png
Ernie Straub
2015-03-31 11:20:38
2015-03-11 12:43:45
Straub Construction Celebrates 95 Years!