By Matthew Straub, Marketing Coordinator at Straub Construction, talking about the church project we are doing for a monastery in Gower, Missouri.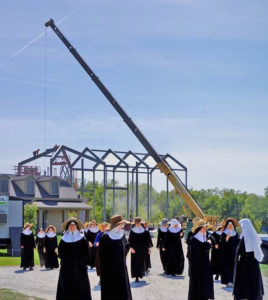 Straub Construction is currently building a beautiful church in Gower, Missouri for a monastery lead by the Benedictines of Mary, Queen of Apostles. Gower is 17 miles north of Smithville. It's a small city with a population of about 1,500.
This is the second project that we're building in Gower. The first was a priest's retreat house for the Benedictines of Mary. This project is the new church right beside the retreat house. The church will be about 15,000 square feet, including the basement and loft area. It will seat about 150 people comfortably and will be finished around August of next year.
The Benedictines of Mary, Queen of Apostles live a very simple but joyous life style. Their monestary, along with the retreat house, and church, sit on about 280 acres. In the Benedictine tradition, these nuns work and live on the land. They have gardens, an orchard, a honey bee farm, chickens for eggs, and cows for milk, which is where they get much of their food. You can imagine dozens of nuns in their black habits, working the fields, and milking their cows. It's a wonderful sight to behold.
The nuns also take a lot of pride in sewing priest's vestments by hand, these are beautiful garments and yet another way that they provide for themselves. The work that they do is primarily done in silence. They believe that the Lord's voice comes to them in whispers so they must be silent and listen. However, it's the moments in the day when they aren't silent, that the world is silent and listens… because of their beautiful singing.
When the Benedictines of Mary are not in silent reflection, they turn to a 1,500 year old form of prayer, the Gregorian Chant. They pray the Divine Office through Gregorian Chant 8 times a day and this usually takes a total of about 5 hours. As a way of connecting and bringing their message to the outside world, the Benedictines of Mary, have recorded multiple CD's. Their CD's have been very successful and you can understand why when you hear how beautiful their Gregorian Chant is. They have recorded a total of 6 CD's and they've sold hundreds of thousands of copies over the years. Both of their first two albums reached #1 on the classical traditional Billboard charts in 2013. However, many of the nuns don't even know how popular and inspirational their music is. If you ask any of them, they would say it's not about selling CD's, it's about praising God and sharing that with the world.
These women have chosen a beautiful silent lifestyle, but we are thankful that they share their wonderful gifts with all of us.
YouTube Video of the Sister's Gregorian Chant
https://www.straubconstruction.com/wp-content/uploads/2017/11/Straub-Construction-Benedictines-of-Mary-Project-01featured.jpg
410
635
Matthew Straub
https://www.straubconstruction.com/wp-content/uploads/2019/11/UseThis-01-300x104.png
Matthew Straub
2017-12-05 11:42:34
2019-03-20 09:48:17
A New Church for The Singing Sisters of Gower, Missouri