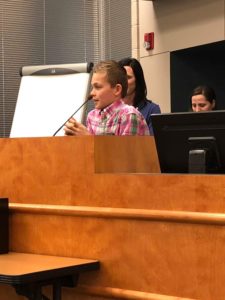 By Joe Riedel, Director of Business Development at Straub Construction
"You kids have it so easy these days.  When I was your age, I had to WALK to school UPHILL, BOTH WAYS.  THROUGH SNOW!"  Right? We've all heard it. To this day, I'm still not sure if our dads were saying their way was better, or if they were calling us weak.
My 10-year-old son recently had the privilege of speaking at the USD 232 Board of Education meeting. He was prepared. He worked hard on getting his thoughts together, he rehearsed, and he dressed for the occasion. Still, he was nervous. Shortly before he would go up front, I caught him chewing on one of his shirt's buttons.
He then stepped up to the microphone, calmly spoke his thoughts and feelings, and made eye contact.
He delivered. My wife and I were so proud.
Earlier in the board meeting, one of the district's high school robotics teams was being recognized for qualifying for a national competition. Also awesome. The feeling of pride subtly switched to reflections of how much Education has changed since I was in school. And no… I did not walk uphill both ways. But, sometimes, there was snow.
Straub's emphasis on Education has granted me access to some of the sharpest minds in the industry, including Architects, Engineers, Project Managers, Superintendents and School Administrators. They're thought leaders regarding Next Gen and 21st Century Learning Environments.
I've also seen examples of K-12 aged kids doing "real world" activities and solving life's real problems. These environments are enabling high schoolers to do more advanced work than what I saw in college. Even at the grade school level, our kids are being taught things like leadership principles – which circles back to my son.  He was at the board meeting as a student representative to speak on the benefits he has gained from a program implemented by his school. The Leader in Me is based on the 7 Habits of Highly Effective People® by Steven Covey.  Communication and interpersonal skill are just a few of the principles coached.  I can't wait to see the amazing things my kids and their schoolmates are doing 5-10 years from now.
https://www.straubconstruction.com/wp-content/uploads/2018/04/BoardPresentation-e1523046047919.jpeg
800
600
Joe Riedel
http://www.straubconstruction.com/wp-content/uploads/2016/07/2016-Straub-logov2.png
Joe Riedel
2018-04-11 06:00:02
2019-03-20 09:48:53
Not Your Father's Education