Straub Construction Company is a third-generation business that has been enhancing Kansas and Missouri since 1920.
1920s: Real estate developer, Ernest J. Straub, Sr., laid the foundation for Straub Construction, when he began his construction services developing homes, churches and schools in the Country Club Plaza and Mission Hills areas of Kansas City.

1960s: The passion for real estate and construction was soon passed along to Straub's son, Ernie Straub Jr., when he entered the industry building houses after the Korean War. With a background in engineering, he was initially sought out for his construction expertise that soon evolved to be the driving force in major real estate developments.
Ernie Straub Jr. had begun making a name for Straub Construction by delivering high quality buildings throughout the Greater Kansas City area.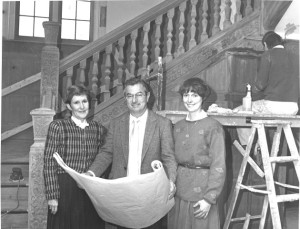 1987: Continuing with the family tradition, further, Ernie Straub, Jr. and his son, Ernie Straub III joined together and further solidified Straub Construction as a leader in the industry. With the guidance of Ernie Straub III, Straub Construction evolved into a full service general contractor and experienced significant growth into the 1990s.

Today: Straub Construction is proud to celebrate 100 years of building the Kansas City landscape. Under the current leadership of CEO & Chairman, Ernie Straub III; President, Parker Young and Vice President of Operations, Dan VanDonge; Straub Construction continues to serve the construction industry with the same reliable, ethical, award winning service that has made us Kansas City's most trusted general contractor.