By David Baalman, Superintendent for Straub Construction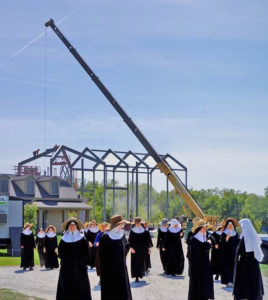 I grew up going to a Catholic School where it was ingrained in me to do what I'm told. I learned respect and the value of hard work from the stern sisters who taught me. All of this has stuck with me through the years and helped make me who I am today.
My current project at Straub Construction has brought back a sense of nostalgia for those elementary days. I am the project superintendent at the Benedictines of Mary Queen of the Apostles in Gower, Missouri, where I'm overseeing the construction of the church for the cloistered nuns' growing community.
But the nuns serving here in Gower are quite different than the sisters I remembered. These women are some of the happiest and most devoted people I've ever met. It's an honor working with them to co-create the church they've imagined, not to mention how much I'm personally impacted every day while working with the sisters. Kind and patient though they may be, just being around the sisters here has been quite a stretching experience.
Building a New Church with Old World Construction
It's been one of the most unique structures I've been a part of during my career in construction. Unlike most of today's modern structures, the sisters wanted a place of worship with an old world feel. Imagine a church in a French countryside, circa 1280 AD. All stone exterior, vaulted ceilings and buttresses, a huge bell tower… you get the idea.
Working on a church, especially for a monastery that about 40 sisters call home, is a unique kind of project. My role as a superintendent goes way beyond managing the creation of a functional space for a client. Each of the dimensions and aspects of the church has a sacred reason and intentional purpose. It's my job to ensure that the construction process goes smoothly, but to also understand the "why" behind the construction.
Throughout the process, I've had the honor of working closely with Mother Cecilia. In some ways, she reminds me of the nuns who taught me in elementary school. She's got a no-nonsense air about her, and isn't shy to tell me her opinion or ask for help when she needs it. Whether it's helping the sisters unload a truckload of feed for the livestock, or going over the Catholic history and purpose of the sanctuary design, Mother Cecilia teaches me so much about my faith every day.
She's not afraid to push me out of my comfort zone on a regular basis, but nothing like the cold windy week last fall.
A Visit From the Cardinal
The Cardinal, His Eminence Raymond Cardinal Burke would be visiting the monastery on the week of November 20th. Over the course of a few days he would be doing a retreat for the nuns, bless their cemetery, and serve in a Solemn Pontifical High Mass. It was a huge honor for the sisters, and there was a buzz of excitement in the air for weeks leading up to the visit.
Mother Cecilia stopped in my trailer on the Friday before and asked if I'd participate in the ceremony to bless the cemetery. My stomach dropped. Now, I may have a Catholic background, but I'm definitely not used to the pomp and circumstance of the ceremony she was describing, let alone having to play a part in it! I tried to politely voice my hesitation, muttering something about not having a cassock or knowing any Latin.
With her steady smile and reassuring voice, Mother Cecilia countered my objections and told me I would do just great. And besides, what superintendent gets to say that they've participated in a religious ceremony with a Cardinal? Her excitement and confidence in me melted my resolve and I agreed.
It truly was a once in a lifetime opportunity. Besides the brief panic over forgetting my black shoes, (shout out to the owner's rep, Paul Villotti, who lent me some of his) and feeling a little lost in all the Latin, it was a beautiful ceremony. Afterwards, His Eminence Raymond Cardinal Burke sought me out to thank me for the great job on the construction of their church as well as the help on the blessing ceremony.
Getting Out of My Comfort Zone
The Solemn Pontifical High Mass was scheduled for the following day and I was looking forward to attending. It was a rare opportunity to attend a Latin Mass led by a Cardinal! And this time, I didn't have to worry about wearing a cassock or doing anything. Or so I thought.
I was up on a scaffold that morning, going over one of the flashing details when Mother Cecilia came to find me. She said "I've miscounted the servers we have for today's mass and I need your help. I know you have the shoes and cassock here to do it!" It wasn't so much a request as a statement of fact. I had been nervous about my small role in the blessing ceremony, but this was a whole other ball game.
I learned later that most people take three days in seminary training to learn the role of a candle bearer I was asked to perform. I had five minutes. My heart was pounding as I put on my cassock, rolled up the hem of my blue jeans, and tried to memorize all that Mother Cecilia and Father Drew were telling me.
We went into the sacristy and I grabbed my candle, then prayed that it didn't go out during the ceremony. I worried about accidentally lighting the Cardinal's robes on fire, but I pushed my concerns and nerves aside, hoping for the best.
Just like the day before, I didn't understand everything that was going on throughout the ceremony, but it felt so special to get to be a part of it. I knelt with the candle while the fourteen other people attending did their various roles to help the Cardinal prepare for the mass. I was able to get the hang of genuflecting then standing without tripping over my robes. Even though I couldn't tell what was all going on, it was clear each step of the process was full of sacred symbolism.
About five minutes into the Mass, I caught a glimpse of Mother Cecilia and she had the biggest grin on her face. Seeing that made all the nervousness from stepping out of my comfort zone worth it. I didn't realize it when I went into work that day that I'd become one of the very few lay-people who can actually say they've been a part of a Solemn Pontifical High Mass.
So yes, I went from Superintendent to Solemn Mass Candle Bearer in 15 Minutes. And it was an amazing experience.
https://www.straubconstruction.com/wp-content/uploads/2018/02/Straub-Construction_solemn-mass-candle-bearer-02.jpg
521
786
Straub Construction
https://www.straubconstruction.com/wp-content/uploads/2019/11/UseThis-01-300x104.png
Straub Construction
2018-03-14 06:00:17
2018-02-21 11:05:18
From Superintendent to Solemn Mass Candle Bearer in 15 Minutes